CD AQUARIUS - Rock Shop - Vinyl Shop - Merch Tričká - Vstupenky
Úvod

Užitočné info

COVID-19 Info
---
COVID-19 Opatrenia na predajni (jar 2022):
Predajňa funguje bez obmedzení.
---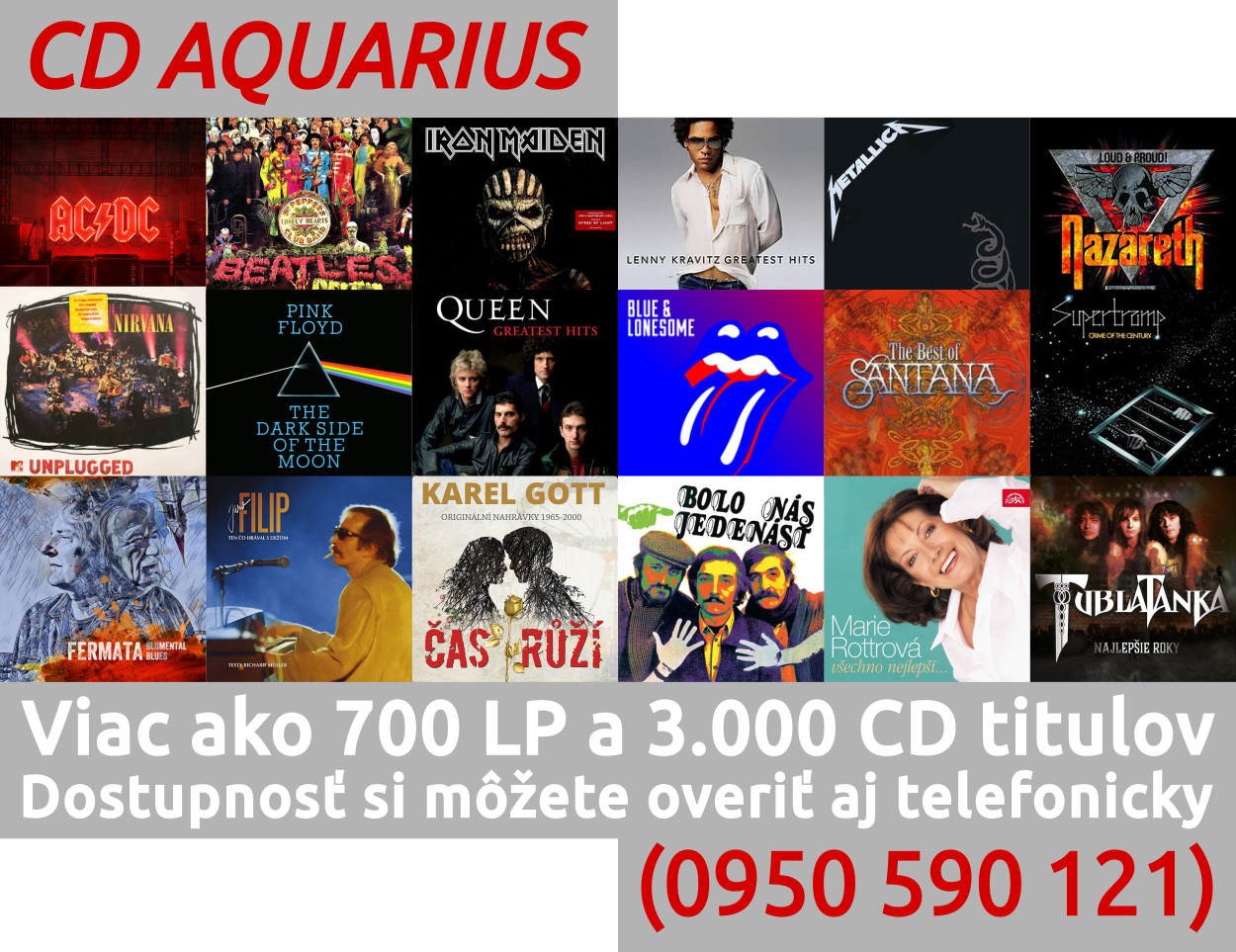 Naša otváracia doba od 19. Apríla 2021:
PON-PIA od 9:00 do 17:30
SOB od 9:00 do 12:00
Tešíme sa na Vašu návštevu!

CDAQUARIUS

---
Situácia ohľadom COVID-19 a predpredaj/ storná/ refundácia vstupeniek.
Niektoré podujatia majú náhradný termín a vstupenky zostávajú v platnosti, niektoré ešte nemajú určený presný spôsob riešenia a pre veľkú časť eventov sa vracia vstupné (na mieste, kde ste vstupenky zaplatili).
Upozornenie: Niektoré podujatia majú spôsob refundácie formou Voucheru!
Ak ste si na niektorej pobočke, predajnom mieste Ticketportalu zakúpili vstupenky - napr. Ticketportal: Lenny Kravitz - nevracia sa hotovosť, ale dostanete Voucher - postup ako to prebieha nájdete TU.
Potrebné je založiť si online konto na ticketportal.sk a následne požiadať o Voucher - postup TU.
Platí to však len pre niektoré podujatia, pre mnohé vraciame vstupné v hotovosti - teda ak ste si pôvodné vstupenky zakúpili na našej predajni (tel.: (033) 5511229, otvorené od 9:00-17:30).

Ak ste si pôvodne zakúpili vstupenky online (napr. Home Ticket) - platili ste priamo prevádzkovateľovi systému, toho žiadajte aj o vrátenie vstupného, resp. o bližšie info k refundácii.

Podrobnosti o Zmenách, zrušených či preložených podujatí nájdete na stránkach jednotlivých predpredajných online systémov:
Ticketportal.sk/Ako vymeniť vstupenku za Voucher

Eventim.sk - info k "Voucher pre zrušené/ preložené podujatia"

---
Music is not dead!
---